Safe City Driving Seminar: More than Car or Truck Insurance | Safety Meeting Topic: Speaker Available
Do you want to have a safety meeting that really makes a difference? Then you have to change people's minds. Most people don't give city driving a whole lot of thought, they just deal with it when it happens. And that's a huge problem. Think about it. It doesn't matter who you are, driving in heavy traffic can test anyone's patience. But it doesn't have to.
The problem is, most people react to heavy traffic emotionally. This Safe City Driving seminar is an exercise to help them analyze it and look at it logically.
If you employ drivers- whether it's truck drivers, taxi drivers, or even sales rep's- you owe it to them to equip them with the latest ideas and technology, not only to help them cope, but to ease your company's financial burden.
If these Ten Keys can prevent just one very minor accident, it will more than pay for itself. And I believe it certainly will. Please read on, I think you'll agree.
Most larger companies have all kinds of training materials for their drivers. They'll teach them about company policies, accident procedures, breakdown plans, stopping distances, pre-trip inspections and more. Along with these procedures we have truck drivers insurance and other drivers have their classic car insurance which is very important to have. Insurance and these safety procedures help to make the roads a safer place for all of us to travel on as it is something we do everyday. All of that is very important. But there is one more very important topic that nobody seems to deal with. And what's worse, it is probably the most difficult aspect of driving.
Of course I'm talking about City Driving – dealing with heavy traffic, delays, road rage, and all it entails.
Click here for the PDF printable outline of my Safe City Driving Seminar.
Ten Keys to Safe City Driving
1. Understand Traffic Waves – When you understand what traffic waves are, you can easily dissolve them.
2. Prevent Traffic Jams – By understanding what causes traffic jams, you can actually prevent them.
3. Stay Calm – It's easy to stay calm during stressful traffic situations, when you understand what makes you stressful.
4. Do the Math – There's an easy math system (you can do in your head) that proves that only a few seconds can possibly be saved while driving in a city, so it is therefore pointless to try to hurry.
5. Be Predictable – Sudden movements cause accidents. Steady, predictable movements give others a chance to react.
6. Time Traffic Lights – Timing traffic lights so that you don't have to stop, will reduce stress and equipment wear.
7. Expect the Expected – Getting cut-off on the highway is so commonplace now, you should really be expecting it.
8. Compensate for the Ignorant – Take pride in the fact that you are one of the few who gets it. Then, you will feel sorry for ignorant drivers, instead of getting mad at them.
9. Teach Others – Help spread the word so that everyone will learn to prevent traffic jams, rather than cause them. Everyone who drives, whether it's a car or a truck, needs to learn how to prevent traffic jams.
10. Make Sure an Accident is Never your Fault – Two simple rules will keep you in the right, every time. Pound these two simple things into your head and you will never have an accident that is your fault.
Just a little about me… I drove everything for many years before I got into safety management. I worked my way up the ladder and somehow wound up as the leading expert on this subject.
I spent my early years driving taxis, small trucks, company cars, you name it, before I settled into trucking for many years. Spending most of those driving hours in and around Chicago, and supervising drivers, I dealt with heavy traffic for more than thirty years. In 2000, I wrote the precursor to my Ten Keys to Safe City Driving, which received raved reviews from the likes of Jesse White (Secretary of State of Illinois), and some major trucking companies too.
I spent the next ten years (2000-2010) writing for Ten Four Magazine, and doing some regular radio spots on about a dozen popular radio shows. In those latter years I started doing more and more public speaking engagements. And now, that's all I do.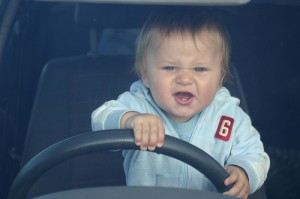 If you'd like to hire me to come and speak to your drivers at your next safety meeting, please email me at info@bigcitydriver.com.
My price is very reasonable, and will in fact pay for itself. I'm not in this to try and get rich, I'm here to help make a difference out there.
My basic rate is $500 for anyone in the Chicago/ NW Indiana area. For this, I will come and speak for an hour or two, take questions, and even hang around a little longer and mingle for the shy people's questions. If you are located away from my home area, please add basic travel expenses to that. I'll travel anywhere in the continental US or Canada for $1.50 a mile, to help cover gas and lodging.
More about me and my Ten Keys to Safe City Driving.