How to Find a Good Paying Local Truck Driver Job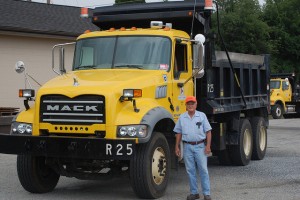 I get asked this a lot, by new drivers and truckers who are simply sick of long-haul trucking (OTR); how to find a good-paying local driver job. Whether in the comments here on Big City Driver, or through email, the answer is a long one, so I thought I'd spell it all out right here. If you are looking to get off the road, or simply looking to get into trucking but don't want to drive 600 miles every single day, this is for you. As you may or may not know, I am a 30-year veteran trucker who has worked for more companies than I care to admit. So I will tell you straight from experience.

First, let me clarify what I mean by good pay. Good pay is different for every driver. While a driver from New York City or Mobile, Alabama might think $15 an hour is good pay, drivers from Chicago or San Francisco think they need $25 an hour, or more. The truth is, it does matter where you live.
Let's look at grocery drivers for example.
In Chicago (ten years ago) they were making $26 an hour. Just one hour southeast from there, in northwest Indiana, the same exact union paid $15 an hour. Both jobs deliver to the Chicago metropolitan area, and drive the same kind of truck. Of course, this was ten years ago when I knew this, so most likely the pay is a little higher now. But I wanted to mention this as an illustration to prove- it matters where you live and work.
Of course, the cost of living is a lot cheaper in Indiana too. So, all things being relative, it probably works out to be pretty close in the end. But still, if you live in NW Indiana, you'd be better off looking for a grocery driver job on the Illinois side of the state line.
How do you find these jobs?
It helps to know the names of some companies in your area. Grocery suppliers are different wherever you go. So, it may be worth your while to talk to a grocery receiver at your local store. Just ask them who delivers their food.
There are a lot of good paying local driver jobs to be found at grocery stores:
I suggest going to your local large grocery store early in the morning (about 7AM), and just park your car out of the way, but where you can see. Wait and watch by the back door (that says receiving on it) to see who comes. You will see potato chip trucks, snack cake drivers, bread route drivers, soda and beer distributors and more. Most of these are usually pretty good paying jobs, and the drivers are home every night. Many offer health insurance, and other benefits.
The best thing about most of them is- you make the big bucks, but get to drive a small truck. Who wants to drag a 53-foot trailer around a big city? Wouldn't you rather drive an automatic step-van, or a small automatic semi truck like the pop drivers drive?
So, you see these drivers pull up to the store and get ready to make their delivery- go talk to the driver. Don't slow him down though- they get paid by commission, not by the hour in most cases. Most drivers are very friendly and will tell you whatever they know. Offer to help him carry it in. Ask where the company is, if they are hiring, how much they pay, etc. A few hours on a Monday morning at a grocery store could give you a half-dozen leads.
Dump truck driving is a good paying local driver job too:
Sand and gravel haulers, asphalt drivers, scrap haulers, and other construction companies use a lot of dump trucks. And driving a dump truck is some of the easiest work around for local drivers. It's always a pleasure to ask, "Where do you want it?" Then just flip a switch or two and plop your product on the ground. Next! No waiting for smart-ass receivers (like the clowns at most grocery warehouses.)
Here's a little dump truck trivia for you- They call the dump trucks 6-wheelers and semi's. If it's not a semi, it's a 6-wheeler, even if it has ten wheels, and even if those ten wheels are pulling a 6-wheel trailer- it's still a 6-wheeler to them. I don't know why, but that's the way they are.
So, how do you find these good paying dump truck driver jobs?
The first place I'd start is in your local Yellow Pages. Just look up sand and gravel. Then try asphalt, and/or construction. Most dump truck driving jobs pay commission, so if you hustle (safely of course) you can do very well in this business. In all my years of trucking, driving dump trucks was the most fun. I always liked going to gravel pits and playing in real-life Tonka World.
You can also look around for construction companies working near you. If you see some nice dump trucks lined up doing a big asphalt job, go talk to a driver while he is waiting. But when it's time to go, let him go. Time is money.
Dump truck owner operators make more money than OTR owner operators.
One of the great things about driving dump trucks is, when you get on a big job, where there are a dozen or more trucks, sometimes the laborers fall behind in their work. So, the drivers get to line up their trucks, and get out and stretch for a while. They sometimes talk with each other, while they make $70 an hour (for owner operators), or $25 to $30 an hour for company drivers. Of course, the one paying those wages would rather see you shining up your truck, or cleaning it out. But, dump truck owner operators shut it down and save fuel. That's why they do so much better than long-haul owner operators- they don't use as much fuel, or drive as hard. So they save on wear and tear too.
Find a good paying local job at a freight hauling company.
Most metropolitan areas have an industrial area. In Chicago, it's Elk Grove Village. In Los Angeles, it's City of Industry. Wherever you live, you probably know where the local industrial neighborhood, sometimes called an industrial park is located. Just like at the grocery store, go there early and watch for local semi trucks (without sleepers) making deliveries at the small (and large) factories and warehouses. Then, go talk to the drivers.
Most of these drivers get to drive nice air conditioned semi's with a short wheelbase for easy turning, city driving. The pay is usually pretty good too. This is also an easy market to become an owner operator in. And the local owner operator, freight haulers save a lot on fuel and wear and tear too, just like the gravel haulers.
The great thing about general freight hauling is, you usually never have to hand-unload anything. It's all on skids. And these drivers usually get paid by the hour. You can also check your local Yellow Pages for trucking companies to find them too.
More ideas for local driver jobs:
Garbage trucks
City jobs (state and county too)
Bus driver
Gravel pit (off road heavy equipment) drivers
Local moving companies
That's about all I can think of for now. If you have any questions or suggestions, feel free to leave a comment. I almost always answer them.
|