PrePass- the Best Invention Since Cruise Control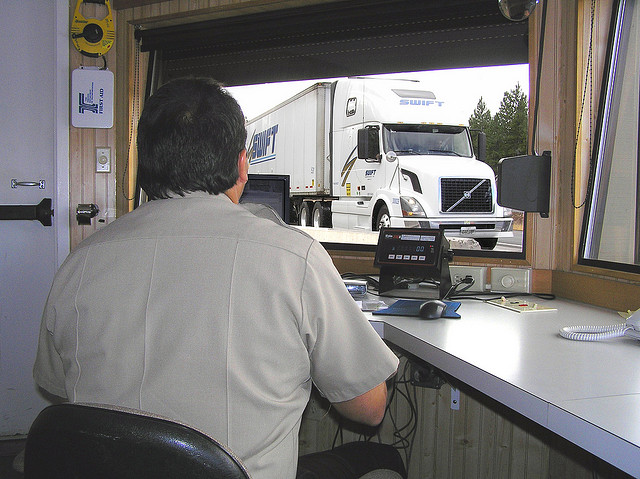 I do love my PrePass. I think it's the best invention since cruise control. No longer do I dread that four-letter word (open). It's been my experience that about nine out of ten weigh stations will give you the green light with PrePass. I can honestly say this is a great product and well worth the money. (And I wouldn't say that if I didn't really mean it.) If you ever thought about getting PrePass, read this.
I have often wondered how PrePass works.
I have always seen the sensors at the weigh stations and wondered exactly what information is being processed and why it does or doesn't give a bypass signal. There were even a few times that my weight was borderline, which had me wondering if my company was sending information about my current load. Well, I found out that they only transmit registration data. The only way they will know what you weigh is if they have the weigh-in-motion scales on the roadway, but many do not. As long as your truck is registered and properly licensed, you will get to bypass the scales most of the time.
You'll notice two sensors hanging above the right lane before a weigh station, if they are participating in the PrePass program. Make sure you stay in the right lane as you drive under the sensors. The first sensor takes your information and logs it on the DOT's computer (so make sure you keep that in mind when filling out your logs), and the second sensor sends a signal to you, whether it's a bypass signal (a green light) or a must-stop signal (a red light). If you get a green light, just keep on trucking. If you get a red light, of course, you'll have to stop at the weigh station. But, like I said before, about nine times out of ten you will be given a green light, enabling you to calmly and safely pass all the chicken haulers who just passed you a minute ago.
Getting a PrePass is easy.
Just log onto prepass.com, fill out the forms, send a fax or two, and within a week you'll by smiling and waving as you go past Smokey Bear and company. You don't even have to put up a deposit. All you need is a credit card to pay your monthly bill, which will cost around $10 to $16 per truck. It's well worth it. They used to charge a small fee every time you got a green light, but they don't anymore. Now, they just charge by the truck, per month. I'm not sure what the difference is between a ten-dollar truck and a sixteen-dollar truck, but either way, it will save you a whole bunch of time.
I talked to a nice lady named Elena at PrePass. She was very helpful and told me that PrePass is currently in twenty-eight states and growing. She also said it only takes four to five days to process an application, then, two or three days to ship the transponder. So, you could conceivably have your PrePass transponder in-hand in about a week from the time you apply for it. If you do not have access to the internet, you can call their home office in Sandy, Utah at 1-800-PrePass (press option six and you can talk to Elena yourself). PrePass has over 74,000 carrier accounts with almost a half-million trucks. She also said they just added Georgia and South Carolina to the network and are working hard to get PrePass into every state.
PrePass recently teamed up with EZ Pass, so you can even get one (PrePass Plus) that will pay your tolls for you wherever EZ Pass is accepted. I'm sure that will cost a little more, but it sure is nice sailing through tolls, weigh stations and port-of-entry facilities. I'm so spoiled to it now I don't think I'd ever be without one from now on. They also offer a Gate Pass, a transponder activated signal that can automatically open a gate for you, and AgPass, which will let you breeze through agricultural check points in Florida.
PrePass really is a time-saver.
I can't count the times I passed loaded weigh stations with tons of trucks lined up on the ramp. I have never endorsed a product before this, so you can be sure that this is a genuine opinion from a fellow driver. I give it two thumbs up – one for time saved and one for money saved, since, of course, time is money. Most of the larger trucking companies now have PrePass transponders, but I think everyone should get one – even owner operators (especially owner operators).
I talked to a California Highway Patrol officer at the Redding, CA weigh station and he said that all the information they see is the name of the trucking company, the weight (since they are a station that has the weigh-in-motion scales on the roadway), and whether or not the truck received a green light or a red light from PrePass. They don't see your safety rating or any other indicator that might normally trigger a closer look by the authorities.
The officers at the scales do not even control who gets the red or green light – it is fully automated and PrePass selects trucks at random. The CHP officer I spoke to said they closely monitor the trucks that pass the station to be sure they did in fact get a green light. If a passing truck received a red light, or if they don't have a PrePass, they will surely get caught in Redding. He also said that sometimes drivers will say their PrePass gave them a green, but he knows better, so that excuse won't work.
It's modern technology at its finest. I fully recommend this product. My name is Ken Skaggs, and you have my word on that.