Big Mother Trucker: 2013 Mid-America Trucking Show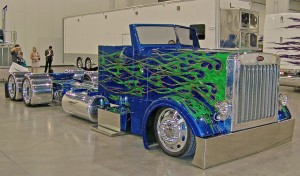 Trucking professionals and industry representatives from all over North America will convene on March 21 – 23 at the Mid-America Trucking Show in Louisville, Kentucky. This colossal heavy-duty trucking event brings together the largest congregation of trucks in the world at the Kentucky Expo Center. The expo's three days are filled to the brim with a flurry of informational seminars, celebrity appearances and constant entertainment.
Events
The expo will be lined with booths providing plenty of activities to keep attendees busy. Guests will have various opportunities to win with Boss Shops' giveaway of a set of new Michelin tires or Moments Notice Truck Driver Leasing's drawing of lucky winners for a new iPad. NASCAR driver Ryan Blaney and "The Deadliest Catch" star Edgar Hansen will be in attendance and signing autographs as well as posing for photographs. Robb Mariani, "truckologist" and host of "American Trucker" will also drop by.
PKY Truck Beauty Championship
For those who prefer steel to skin, the PKY Truck Beauty Championship gathers a slew of sexy trucks to strut their stuff. This event has become a popular attraction and features the largest gathering of show trucks in the country. The big rig beauties are decked out in flashy chrome and stunning paint jobs in celebration of North America's heavy-duty, working show trucks. The show takes place in Lot "J" behind the west wing.
Seminars
MATS presents a plethora of free seminars that educate and inform attendees on current trends, news and the future of the trucking industry. Individuals, companies and fleets will obtain invaluable information from the 13 seminars spanning the three days of MATS. Seminars will be held in the South Wing Conference Room B-104.
MATS Concert
The Mobil Delvac heavy-duty diesel engine oil team will present a free concert to attendees on Friday for the 5th consecutive year. Hailing from Nashville, Tenn., The Diesel Outlaws will play trucking-themed songs as the opening act. Randy Houser, a winner of CMA, CMT and ACM awards, will headline the show with top hits from his new album, "How Country Feels," as well as past songs from prior albums. The up-and-coming country singer-songwriter's "How Country Feels" single is currently at No. 1 on the Billboard Country Airplay Chart.
"It's an incredible opportunity for us to display our appreciation of the hardworking men and women that play a vital role in our country's economy out on the road," stated Marci Crigger, Commercial Vehicle Lubricants Marketing Advisor for ExxonMobil Fuels, according to TruckingShow.com. Head down to the Kentucky Exposition Center Freedom Hall after the MATS Friday edition.
Fleet Forum
Fleet executives and heavy duty/commercial vehicle industry VIPs will meet for the MATS Fleet Forum conference. Trucking's two biggest publications, Heavy Duty Trucking and Fleet Owner, will combine their resources with executives to present a comprehensive look at the future of trucking and truck equipment.
|