Truck Driving In Australia: Road Trains and More

(adsbygoogle = window.adsbygoogle || []).push({});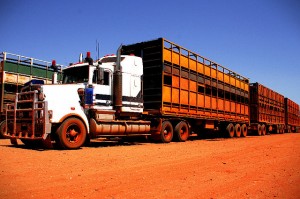 Like in other parts of the world, truck driving in Australia has its own challenges and rewards. For most Australian truck drivers (truckies), truck driving is not just about being on the road, it's about their job, their lifestyle, and their family. In one sense trucking in Australia is its own little community.

Truck driving is a huge industry in Australia. This is not surprising given that the country doesn't have a railway line connecting north and south, and everything has to be transported using trucks. Much of the road network on which goods are transported is located on the coastal areas, connecting the major Australian cities where most people live. The inland of the country is made up of cattle ranches, or cattle stations, and dry unused government land.
Truck driving in Australia can be challenging, as there are no freeways running from coast to coast. The roads are typically narrow, with one lane in each direction. This means that only a very small space is usually left when two vehicles are passing each other, and truckies must maintain their concentration at all times.
Truck drivers in Australia can be self-employed, or may drive for a company. They transport a wide variety of goods, ranging from fast moving consumer goods to hazardous or pressurized materials. Some of the vehicles that driven by truckies include compactors, Haulpaks, heavy haulage trucks, hauliers, logging trucks, tilt trays, tow trucks, and of course the infamous Road Train.
The road train is the king of the road in Australia. A typical Australian road train carries a load of 120 tons spread over three, 44-foot trailers. Some of the road trains come with six or even more trailers. It can be generalized that most truckie's in Australia aspire to drive one of these road monsters cross country in their career.
To become a truckie, you need to have two key skills, (a) good driving skills and (b) be physically fit. Also, having an aptitude for truck mechanics generally helps, especially when it comes to basic truck repairs on the road, for everything else a good and trusted mechanic is the key to longevity of driving. Aspiring truck drivers must be at least 18 years old and have a minimum 1 year holding a C class Driver License (car license) prior to getting a Light Rigid Driver License, which allows them to apply for higher road license classes so they can operate trucks. Those who want to become road train drivers may be required to have further courses completed through an accredited institution.
While there are abundant employment opportunities for truck drivers in Australia, having a heavy truck-driving license doesn't guarantee you a job. Most employers prefer experienced drivers. So aspiring truckies start by driving small trucks to gain experience, and then apply for bigger jobs such as driving a road train.
Truck driving in Australia is heavily regulated by both NTC (National Transport Commission) and NHVR (National Heavy Vehicle Regulator). The truck tractors, which are mostly US made, such as Mack and Kenworth, must be designed to road train standards. Truckies must make a stop and rest after every four (4) hours on the road, and cannot drive for more than twelve (12) hours in a single day. Trucking companies in Australia often make trips with two (2) registered and licensed drivers so while one drives the other can rest.
Most truckies fuel their vehicles for at least 1000 miles since fuel is cheaper in the big cities on the coast. After around 150 miles, there are small truck stops where drivers can rest and get to enjoy home-style cooking.
An interesting fact about trucks in Australia is that they are fitted with huge "roo bars" on the front. This is to prevent the trucks from getting damaged from the impact of hitting kangaroos while driving in the outback, especially at night. But in the daytime, drivers get to enjoy wonderful sights, including wildlife, beautiful landscapes, forests, deserts, and even beaches.
|