Want to See the Country? A Career in Trucking Might Be Right For You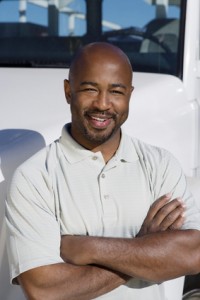 If you're just getting started in your career or are thinking about making a switch, consider trucking. It's one of the most important industries in America, and as of 2011, trucking accounted for 67 percent of the total volume of freight transported throughout the U.S., trucking.org reports.
It takes a lot of people to move that much cargo. In fact, in 2010, approximately one out of every 15 Americans worked within the trucking industry, according to the American Trucking Association. The industry is growing, too; the Bureau of Labor Statistics estimates there will be as many as 300,000 new trucking jobs by 2020.
What Type of Personality Fits With the Trucking Lifestyle?
Being a trucker is not easy. It demands a lot of solitary hours on the road, excellent driving skills and the ability to properly schedule hauls that sometimes last thousands of miles. If you like having time to yourself, or can listen to books and music for hours on end, trucking may fit very well with your personality.
What Certifications Do I Need to Become a Trucker?
The first thing any potential trucker needs is a solid driving record. Without it, jobs will be difficult to find. Truckers should have at least a high school diploma or a GED. Most states require truck drivers to carry a commercial driver's license (CDL), and some larger trucking companies offer on-the-job training. Most online job postings will be clear about whether on-the-job training is available. A quick Internet search for "truck driving schools" reveals hundreds of them in all 50 states. Be sure you know what type of driving you'll do before you choose a training program.
What Types of Hauls Are There?
LTL: A less-than-truckload (LTL) driver hauls multiple, small shipments heading to different locations all in one trailer. According to thetruckersreport.com, this is the most lucrative type of trucking, as LTL drivers make an average salary of $84,000 a year. Furthermore, most of the hauls are not on the other side of the country, which results in more time at home.
Long-Haul Driver: Almost all beginners are required to take on a job as a long haul driver for their first year. This is the type of haul that many people think of when they think of trucking. It may mean going from coast to coast and being on the road weeks at a time. The Richmond Times-Dispatch recently reported that new drivers earn a salary of anywhere from $35,000 to $50,000 in their first year of trucking. In subsequent years, a long-haul trucker can expect to make significantly more. According to thetruckersreport.com, the average long-haul driver brings in a salary of $53,000 a year.
Local: Local truckers, on the other hand, don't travel particularly far. They even get to sleep at home each night. You usually must have some long-haul experience before taking on a local job, however. The average salary for a local trucker is $55,000 a year.
Regional: Regional truckers are somewhere in between the first two types. Typically, they will drive out of the state, but they don't stay away from home for more than a few days. The average salary for a regional driver is $67,000 a year.
Owner-Operator: An owner-operator trucker owns his or her own truck, and is contracted out by different companies. These types of truckers have gained recent fame due to the show "Shipping Wars," and, as anyone familiar with the show knows, it's a chaotic and frustrating business—though it can be lucrative.
|