Trucker Stranded on Country Lane for 24 Hours

(adsbygoogle = window.adsbygoogle || []).push({});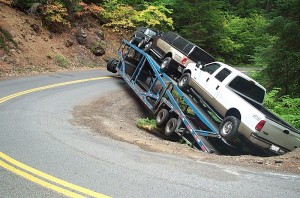 The importance of paying attention to both road signs and satellite navigation systems has been highlighted by a case in which a lorry driver was stranded down a country lane for 24 hours after ignoring weight restrictions on signs in favour of his sat nav.
According to a report in the Mirror, the unnamed lorry driver chose to ignore a sign stating that a road had a 7.5 ton weight restriction, and instead took his huge wagon down a narrow lane in Bickleigh, near Plymouth, Devon, under instruction of his sat nav.

The truck slid while being driven around a bend in the lane, and became wedged against the grass banks on either side of the road. The driver was stranded in his cab for 24 hours and it took rescuers four attempts to safely free the vehicle.
Speaking to officers the driver claimed that at one stage, he was concerned he would not be found in time to make it home for the festive period.
Truck sat nav systems are invaluable to many drivers, allowing them to navigate themselves around unfamiliar towns and cities, or to avoid traffic jams, but they any user should also use their own common sense when following a sat nav system.
Any experienced lorry driver will know that height and weight restrictions should never be ignored, and while this situation no doubt caused inconvenience for the trucker – as well as all the other motorists who had to be redirected to avoid the blocked lane – it could have so easily have been much worse.
I'm sure most truckers can tell stories like these all day long. But it's nice to know that with today's technology, a simple GPS device can save a driver many hours of his time, and in the future maybe these stranded driver stories will be fewer.
Snooper is a leading supplier of GPS satellite navigation systems for, trucks, golfers and leisure travellers. Visit their website at www.snooper.co.uk
|