Being a Trucker and Balancing Family Life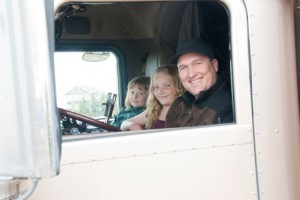 According to the Bureau of Labor Statistics, jobs in the trucking industry are expected to expand at a higher than average rate over the next ten years.
Truckers are an essential part of the economy; they deliver goods and materials over land, to and from retail locations, manufacturing facilities, and distribution hubs. A truck driver picks up cargo and delivers it to virtually anywhere where they can reach by roads alone. Sometimes conditions are intense and the hours are always long- this job is definitely not for everyone. Many wonder if it's possible to have a family if you work in the trucking industry, the real pros are the ones who know how to balance their personal life with work.
A Trucker's Schedule
The average American worker has no idea how short their days are. A 'normal' schedule is typically a 9 hour block of time with 8 labor hours and a one hour lunch break. With health care, service, and retail industries employing such a large amount of people, it's not uncommon for people to work at different times in the day from week to week on rotation. Fifty years ago, most people just worked from the early morning and were home for dinner and working on the weekends was a rarity. Truck drivers have a unique circumstance and this profession has never really carried a day-to-day schedule.
People who work in transport can expect to work 11-14 hours per day of pure driving with brief breaks throughout. Many truckers also stay on the road for weeks at a time. Since many truckers won't go home daily, their time at home is measured on days and weeks at a time instead of nighttime and weekends; typically, they will get one or more weeks off at a time.
How this Profession Impacts Family Members
While the trucker's schedule can be challenging on the worker, it has as profound impact on the family members of these professionals. For married couples, the strain of the distance can be extremely challenging. The spouse left at home usually ends up being responsible for all of the domestic duties including paying bills and maintaining the house. When children are involved, things can get a little trickier. The parent on the road gets little time to see their children and the parent who stays at home usually functions much like a single mom or dad would – all responsibilities are on their shoulders. Children from infancy through early school years are often so dependent on the parent not on the road that this parent may often choose to not work and dedicate themselves solely to the children and home.
Really Being Home When You Are There
This may sound odd to most, but people who have loved ones who spend a lot of time away from home for work probably know exactly what it means to really be present and not just physically there. Drivers, and anyone who travels frequently for work, spend such long blocks of time at once working that it can be very difficult making the transition into personal time. When the trucker parent is at home, they may feel stretched thin. This is the time they need to rest and relax, but at the same time, they must also catch up with their loved ones and help out around the house.
Developing a schedule can be the best way to manage home life, this can give the trucker time to decompress but also devote themselves to their families while they're at home.
|