Drive Safely: Holiday Travel and Increased Freight Truck Accidents

(adsbygoogle = window.adsbygoogle || []).push({});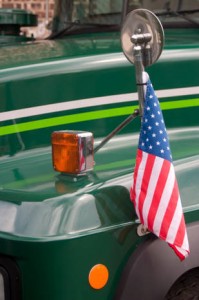 The holidays are a joyous, but stressful, time for most people; you have to rush through work just to find time to finish your holiday shopping and run the errands that have piled up. That's fine for most people, but what if you work as a trucker? Rushing through your job could mean the difference between life and death when you're behind the wheel of a freight truck as well as behind schedule.


What Makes the Holidays Different Than The Rest of the Year?
As stated above, the holidays can be extremely stressful for the majority of people in the United States. Most people don't have enough time off from work and that results in highways full of motorists who are in a rush and don't have their mind on the road. On Christmas day alone, there is an average of 400 car accident fatalities in the United States. When you think about how stressed the average motorist is, you can only imagine how much stress a truck driver must be going through. They work on tight deadlines, and are constantly in a rush to bring new toys and electronics to retailers so that their stock is always replenished. These strict deadlines and work schedules lead to increased freight truck accidents during the holiday season.
Holiday Accident Statistics Show an Increased Risk to Motorists
Loads on freight trucks can reach as high as 22 tons, a weight that can kill multiple people with one accident and ruin the holidays for many others. The US Department of Transportation has said that there is a 23 percent travel increase over the holiday season and December is the leading month for auto accidents. From 2009 to 2010 there was a 9.1% increase in fatalities to the occupants of other vehicles involved in accidents with a freight truck. The people who are most at risk when a large truck crashes are the drivers and passengers of the other vehicles involved.
---
Article Written by SimplyLili
Google+
Twitter: @SimplyLili1717
SimplyLili is a PhD student in Social Psychology, and the witty author of Essell Magazine; created to disperse knowledge on a plethora of psychological topics in a minimalist and relevant way. She is a self-proclaimed nerd, and her 3 fave things are blogging, rainy days, and pugs.
'Knowledge-Simply'
|